Fitur ini memampukan setiap pengguna mengatur desain tampilan aplikasi sesuai kesukaan masing-masing untuk memberikan suasana yang lebih menyegarkan dalam memakai aplikasi Alkitab.
The display can be modified to suit your preferences and improve your reading experience.
Pengguna dapat mengubah penampilan Alkitab dalam 7 macam elemen:
There are 7 customisable elements:
Mode Gelap

Night Mode

Layar Penuh

Full Screen

Mode belah

Split Mode

Jenis Huruf

Font Type

Ketebalan Tulisan

Font Weight

Ukuran Teks

Text Size

Jarak Antarbaris

Line Height

Pengaturan Tema

Themes
---
Mode Gelap berfungsi memberikan tampilan khusus dengan menghitamkan warna latar belakang. Fitur ini memudahkan pengguna untuk membaca Alkitab dalam tempat-tempat yang gelap dan kekurangan cahaya, seperti ketika mati lampu, menjelang tidur, sehingga tidak melelahkan mata.
Ubah tampilan layar menjadi mode gelap dengan membuka drawer di kiri dan aktifkan Mode Gelap. Night mode darkens the display to ease reading in a dark place so that your eyes won't be as strained. To activate it, open the left drawer menu and turn on the toggle for Night Mode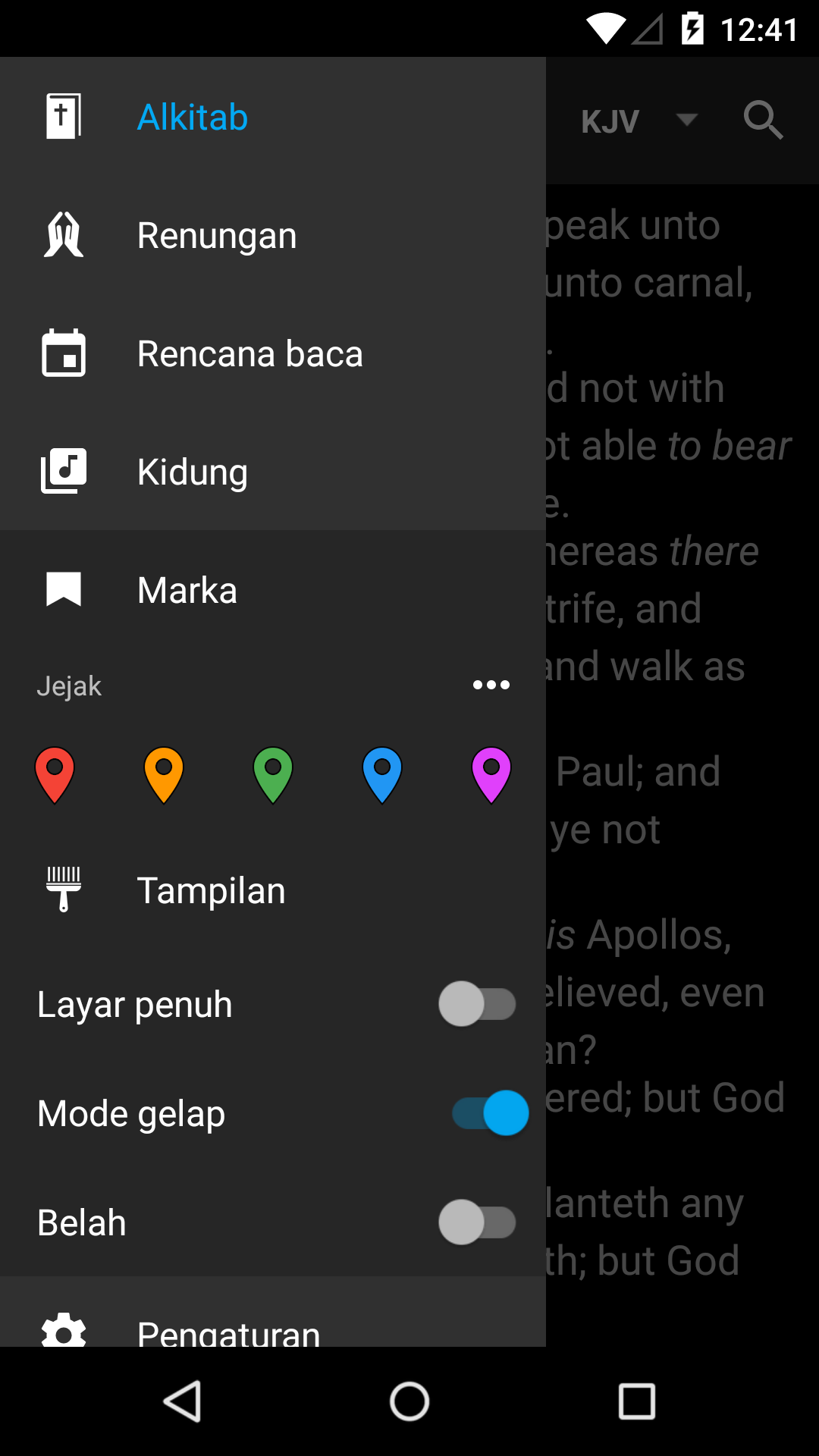 Layar penuh
Full screen mode
Pilihan ini berfungsi memberikan tampilan khusus untuk memudahkan kegiatan membaca aplikasi Alkitab dengan meyembunyikan icon-icon fitur lain. Ini membuat pengguna berkonsentrasi untuk membaca isi Alkitab dalam aplikasi. Mode layar penuh cukup cocok dipakai jika layar HP anda berukuran kecil.
Untuk mengaktifkan Layar Penuh, buka menu drawer di kiri dan aktifkan Layar penuh. Full Screen Mode removes all non-Bible displays and only retains the Bible Verses on screen. To access it, open the left drawer menu and turn on the toggle for Full Screen Mode.
Video introduksi mode layar penuh di aplikasi Alkitab
---
Untuk akses cepat Layar Penuh, anda juga bisa menggunakan gesture two fingers move up/down di layar HP anda. To quickly access Full Screen Mode, just swipe the screen in a vertical manner with two fingers.
---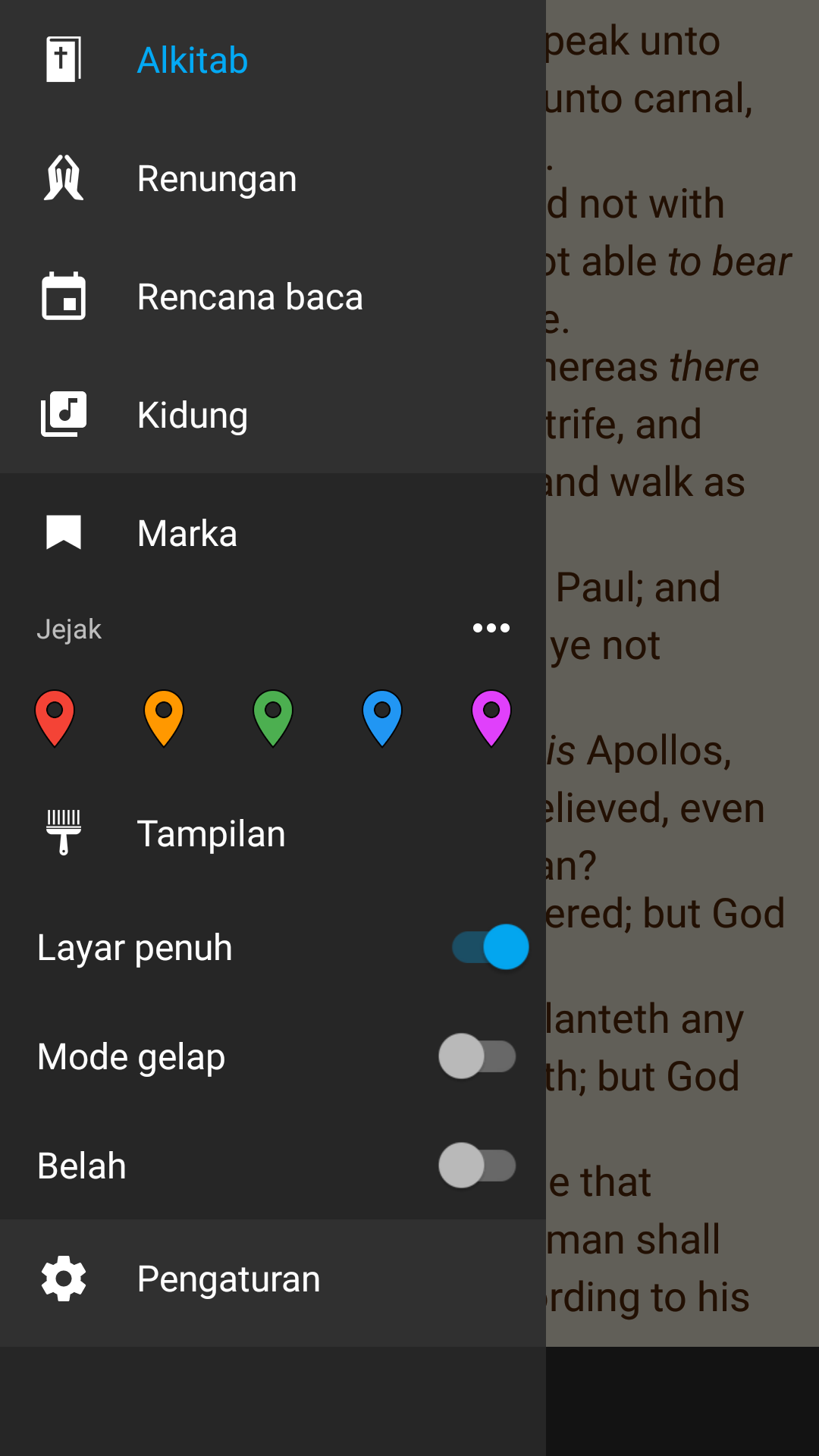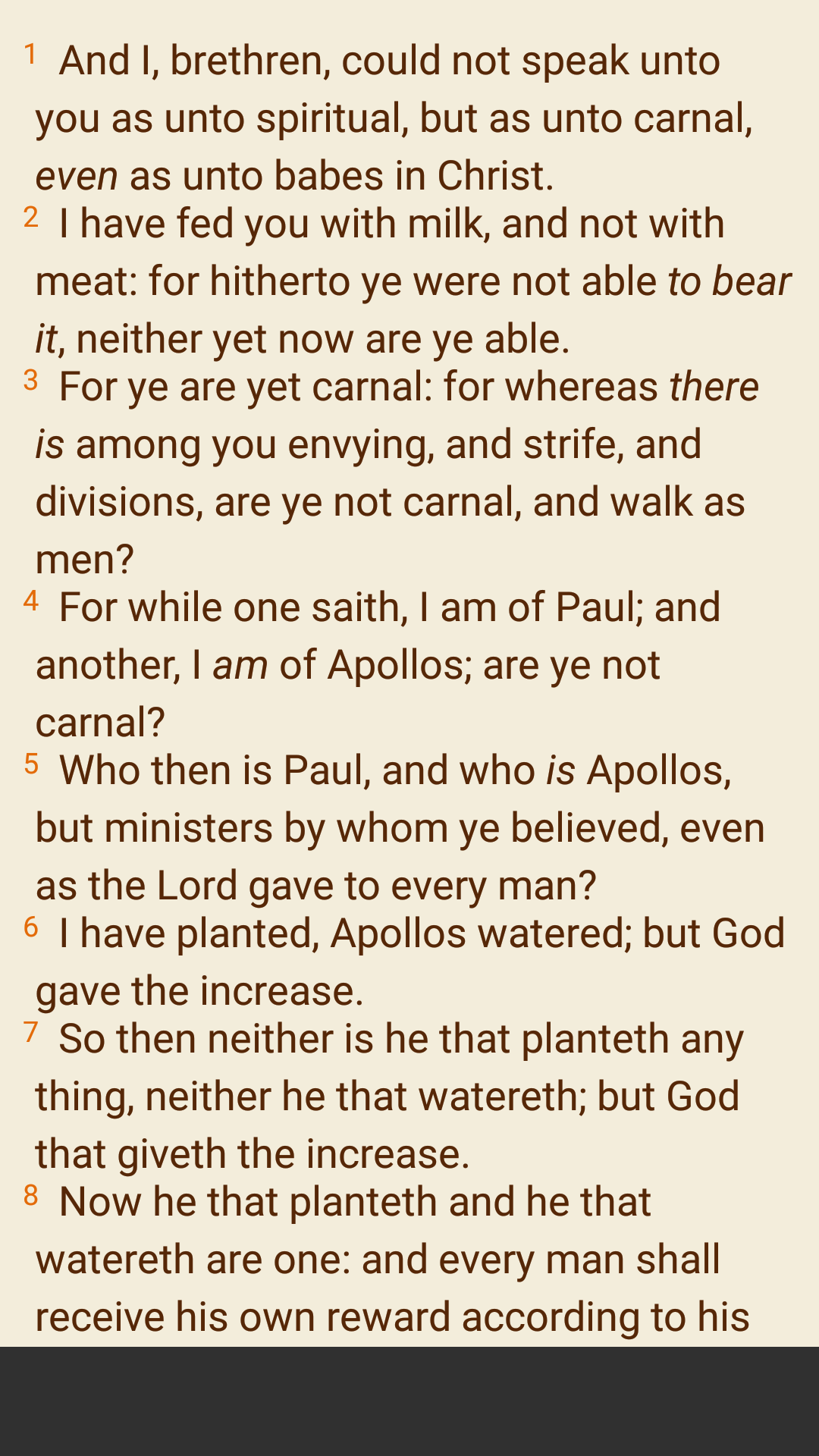 Mode belah menampilkan 2 versi Alkitab yang berbeda sekaligus secara berdampingan. Sistem tampilan ini sangat nyaman dipakai untuk mendalami Alkitab karena anda dapat membaca Alkitab dalam 2 versi sekaligus. Split Mode shows two different Bible versions at the same time, allowing for easy comparison between two different versions.
Video introduksi mode belah di aplikasi Alkitab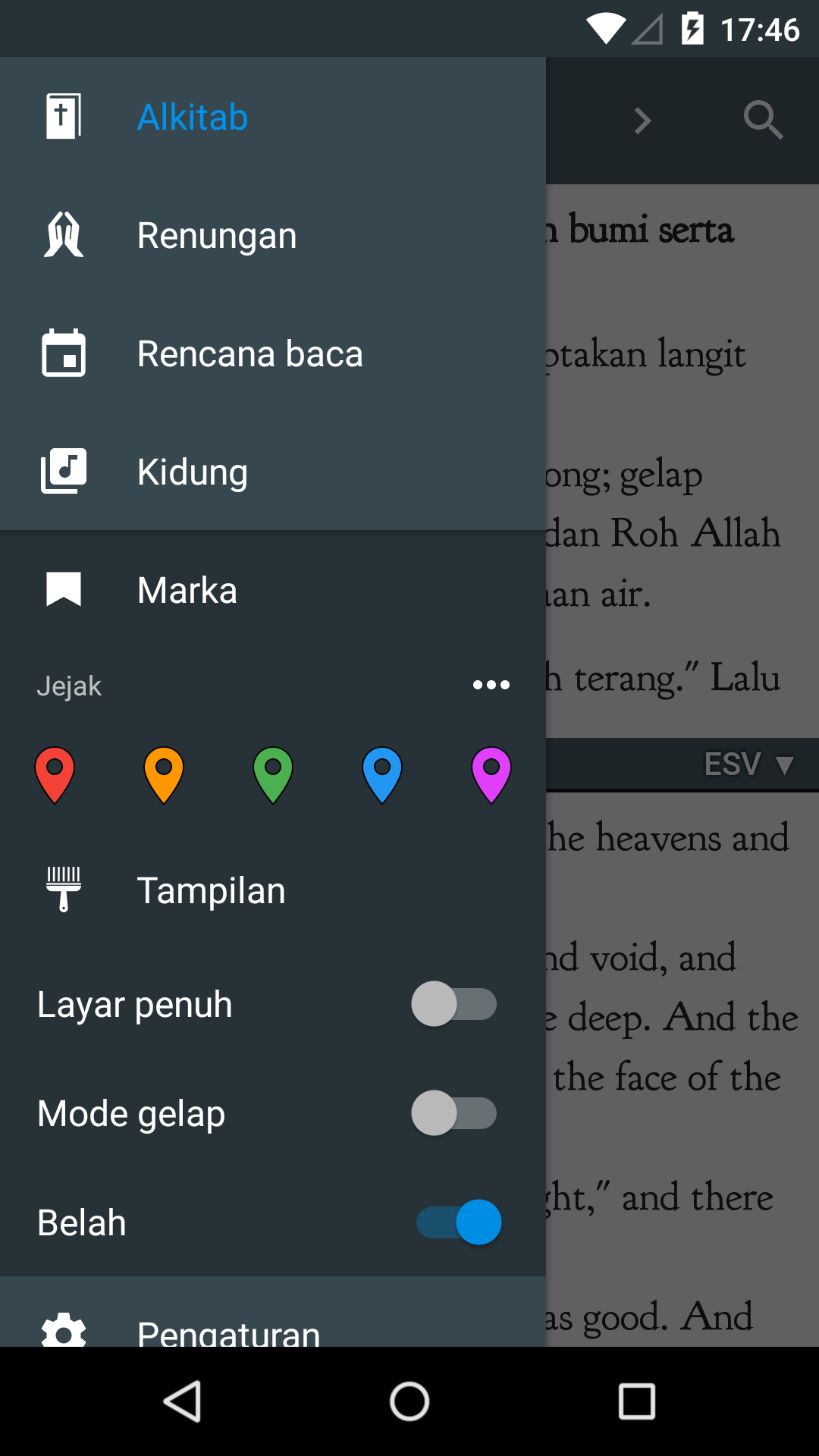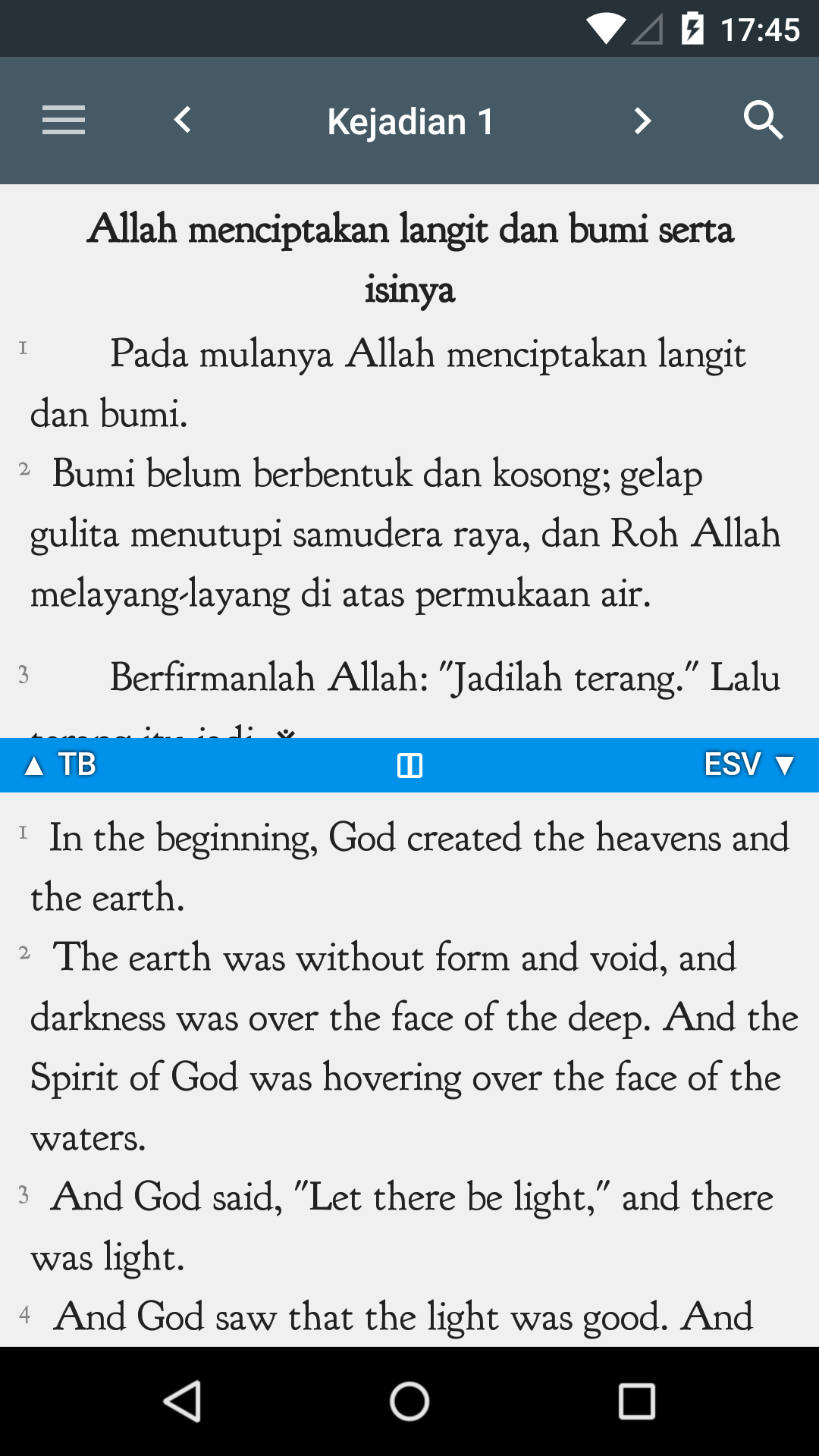 Mode belah memunculkan sebuah bar di tengah sebagai pemisah antara versi yang di atas dan di bawah. Tekan dan drag bar tersebut untuk mengatur tinggi. Anda juga bisa menekan tombol yang berada di tengah-tengah bar tersebut untuk mengubah dari sistem belah horizontal ke vertikal dan sebaliknya. In Split Mode, a bar appears in the middle of the screen to separate the two different versions. This bar can be dragged to adjust the height. The split can be switched between a horizontal and a vertical split by tapping the small button in the middle of the bar.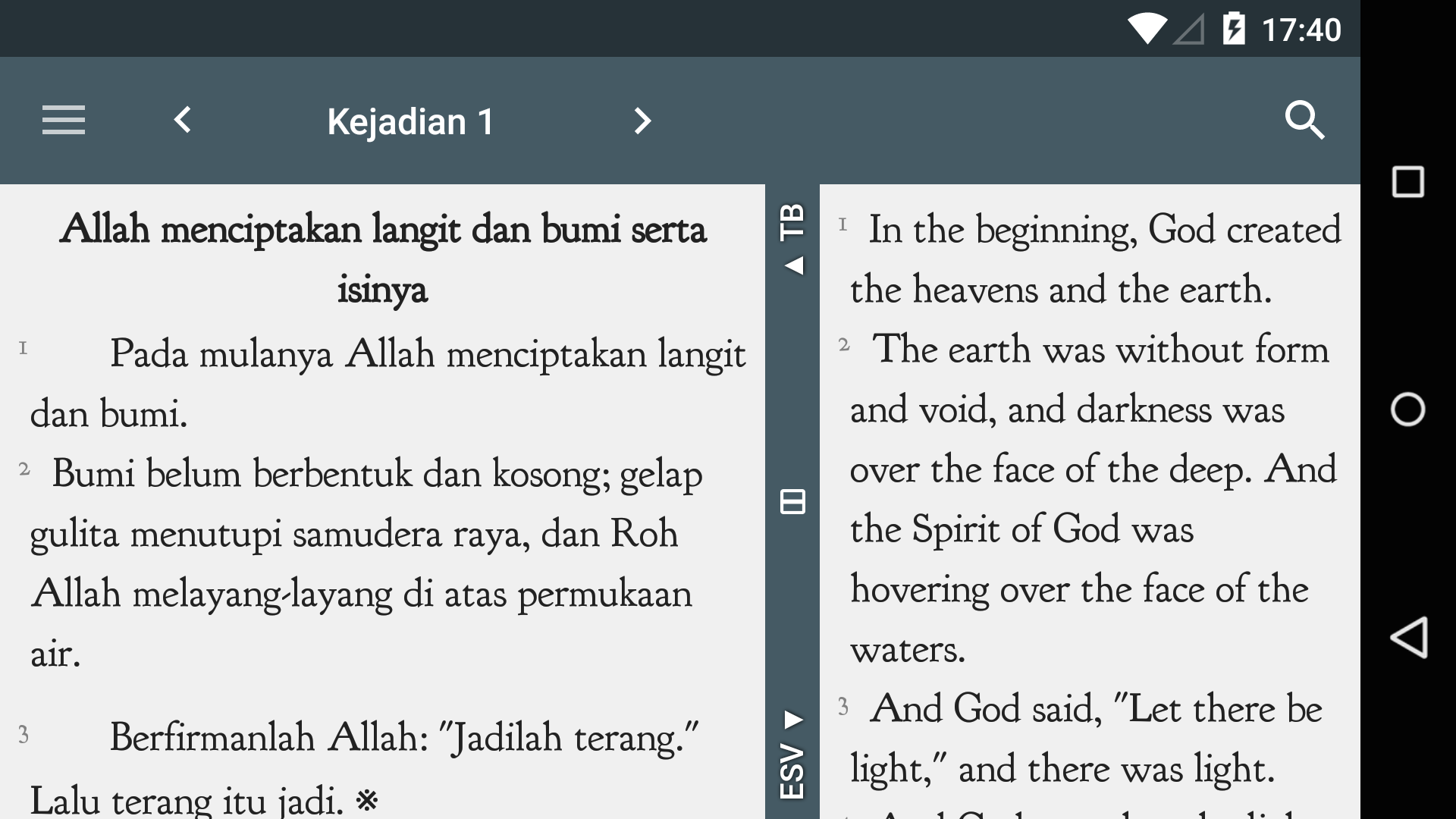 Anda dapat mengatur jenis huruf yang dipakai untuk menampilkan isi Alkitab. Buka drawer di kiri lalu pilih Tampilan
Jenis huruf lain dapat diunduh dengan koneksi internet. Tekan Dapatkan huruf lainnya... untuk melihat daftar jenis huruf yang tersedia. Apabila anda sudah selesai mengunduhnya, jenis huruf tersebut akan siap dipilih. Tap Display after opening the left drawer menu to customize the font.
Tap Download more fonts to see a list of downloadable fonts, which will be usable immediately after download.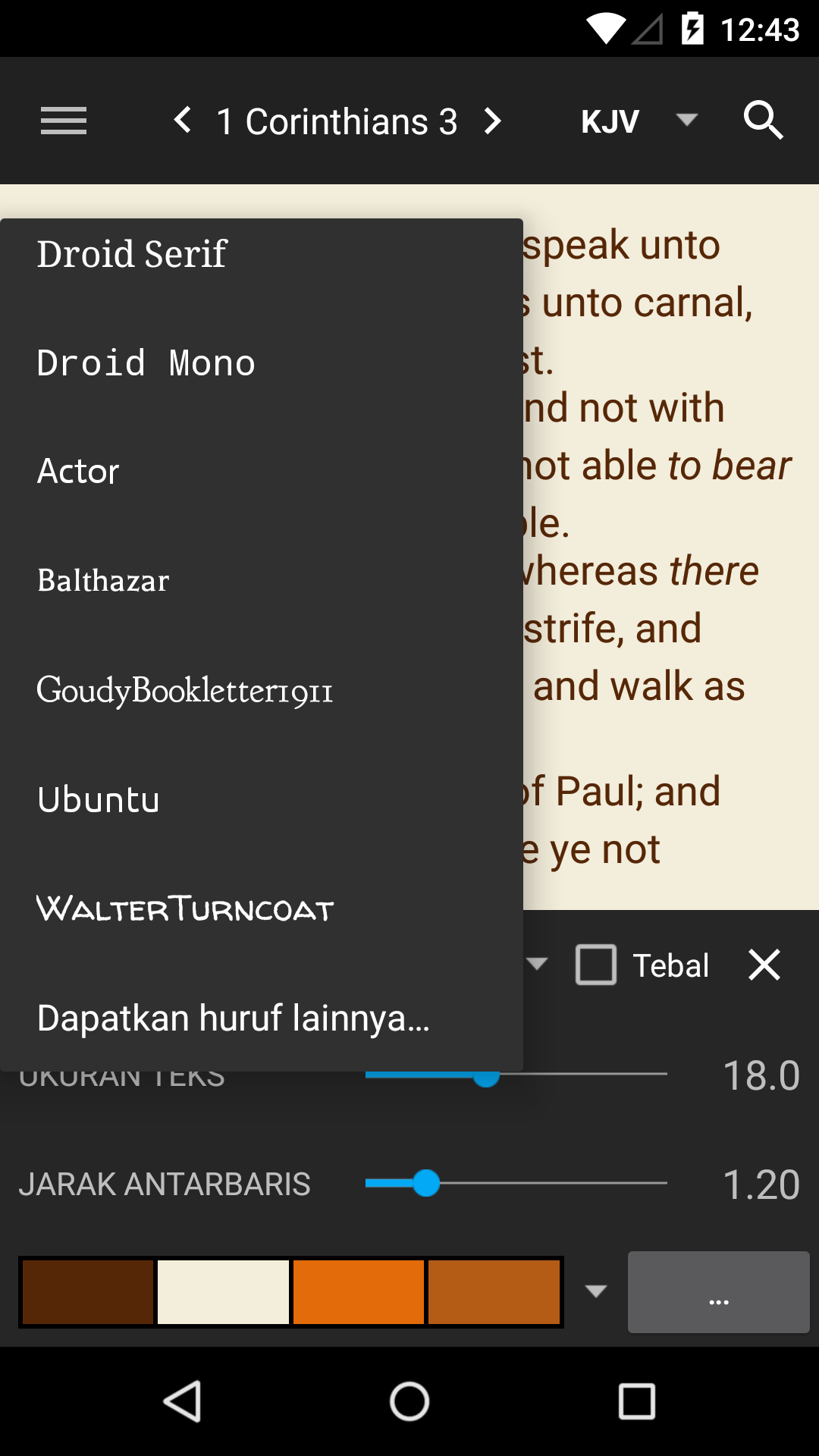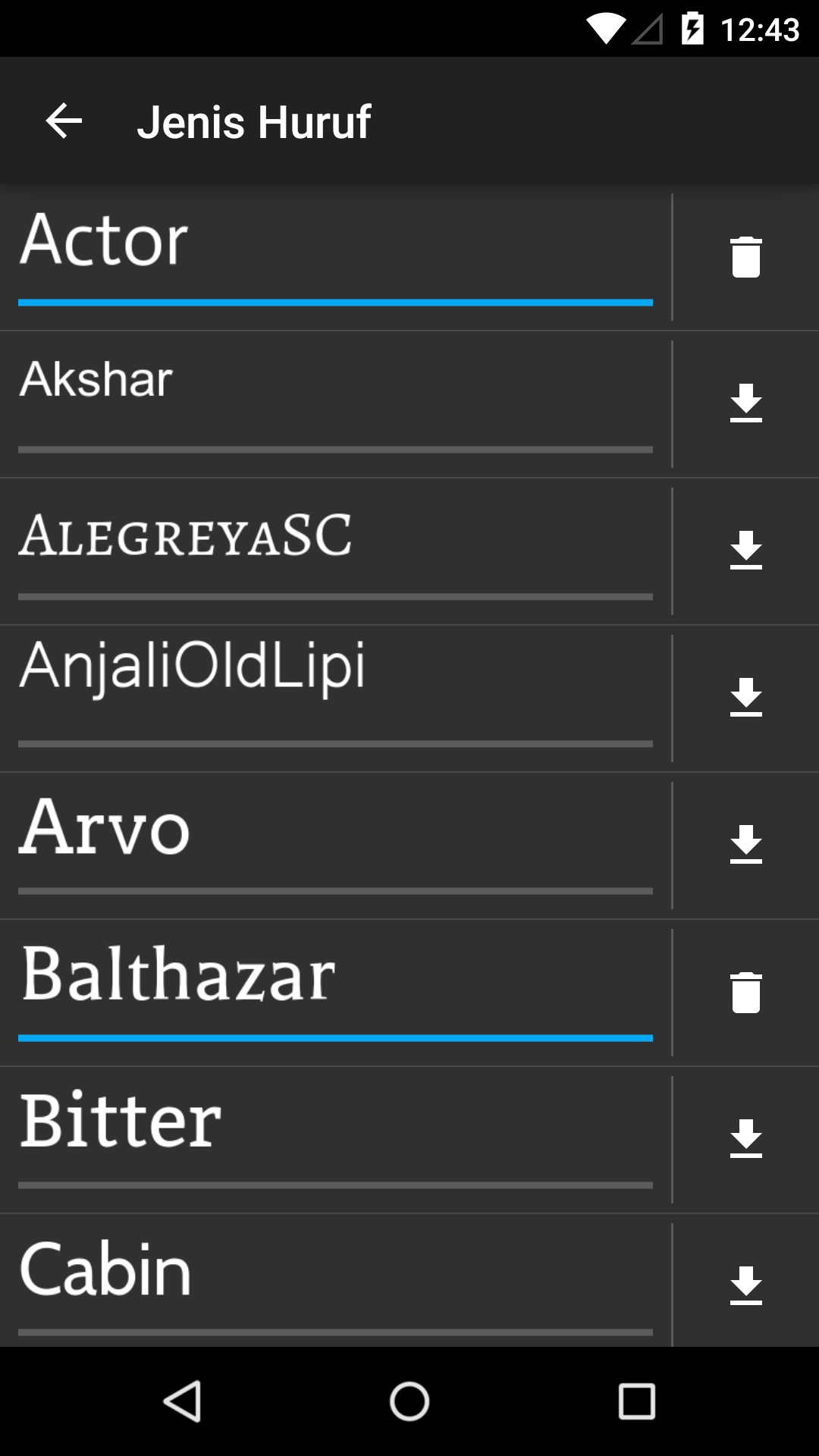 Mengatur Penampilan Teks
Set text display
Anda juga dapat mengatur tebalnya tulisan, ukuran, dan jarak antarbaris. Juga anda bisa mengubah tema warna Alkitab. Anda dapat memilih dari tema-tema warna yang sudah disediakan oleh pengembang atau membuat tema sendiri secara manual dengan mengubah warna background, warna teks, warna perkataan Yesus, dan warna nomor ayat. Silakan mengubah tampilan Alkitab sesuai selera Anda! This option lets you customize font style, size and line spacing, as well as the color theme of the Bible. Default themes are available, as well as custom color themes that you can create yourself. The background, text, Words of Jesus and verse number colors can be customized.
---
Anda juga bisa menggunakan gesture pinch untuk zoom/memperbesar dan memperkecil ukuran huruf dengan cepat. Pinch to quickly zoom in/out (adjust text size quickly).
---