Sync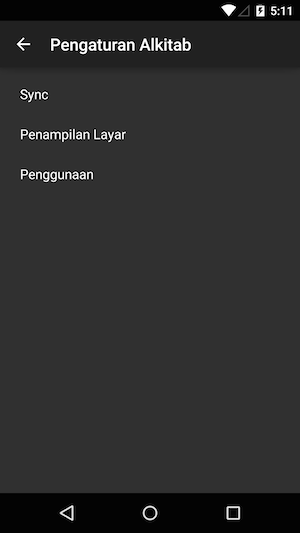 Dengan fitur ini, maka backup marka menjadi jauh lebih mudah dan efisien. Anda tidak perlu lagi secara manual membuat cadangan, memindahkannya melalui email untuk membukanya kembali, sebab fitur ini telah memprosesnya otomatis untuk anda.
Data marka anda aman disimpan di server kami, sehingga anda tidak perlu repot memindahkannya atau khawatir apabila berganti device atau device anda sewaktu-waktu hilang/rusak. Syncing is done directly through the app, and all necessary data is saved on our servers.
Video introduksi fitur sinkronisasi di aplikasi Alkitab
Untuk menggunakan fasilitas sync, pertama-tama buka halaman pengaturan, lalu pilih menu sync. Anda harus membuat akun terlebih dahulu. Pastikan anda menuliskan alamat email yang dapat anda gunakan. To sync your data, go to the settings menu and tap Sync. You will need to create an account with your email address to use this feature.
---
Apabila sukses, sebuah layar baru muncul di mana anda dapat menentukan data apa saja yang dapat anda sync. Jadi untuk menyinkronkan data anda dengan perangkat lain, anda hanya perlu login sync dengan akun yang sama.
If the sync succeeds, a new page will appear, allowing you to select what data you would like to sync. To retrieve previously-synced data, you will need to login to the same account.
---
Saat ini, sudah ada beberapa data yang dapat disync: pembatas buku, catatan, sorotan, riwayat ayat, kemajuan jadwal baca, dan jejak. Anda dapat melihat data akun Anda di https://alkitab.app/cloud. There are several datas that can be synced: markers, verse history, reading plan schedule, pins (progress marks). You can see your account data at https://alkitab.app/cloud.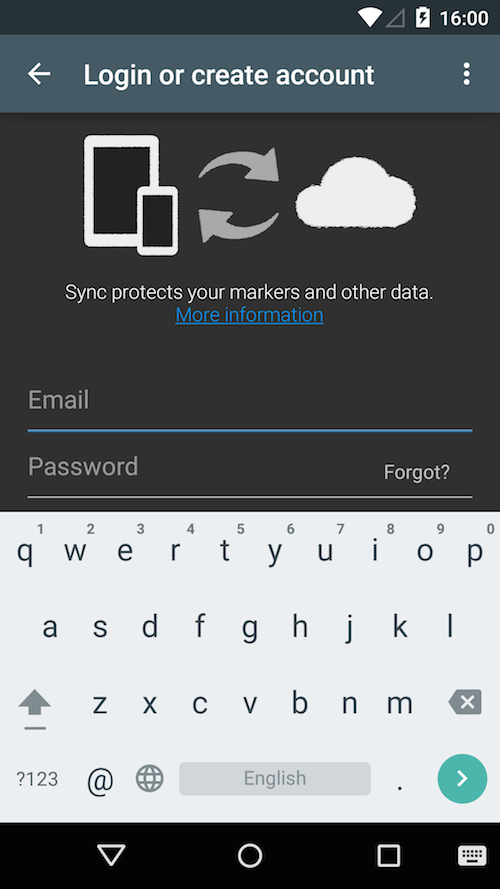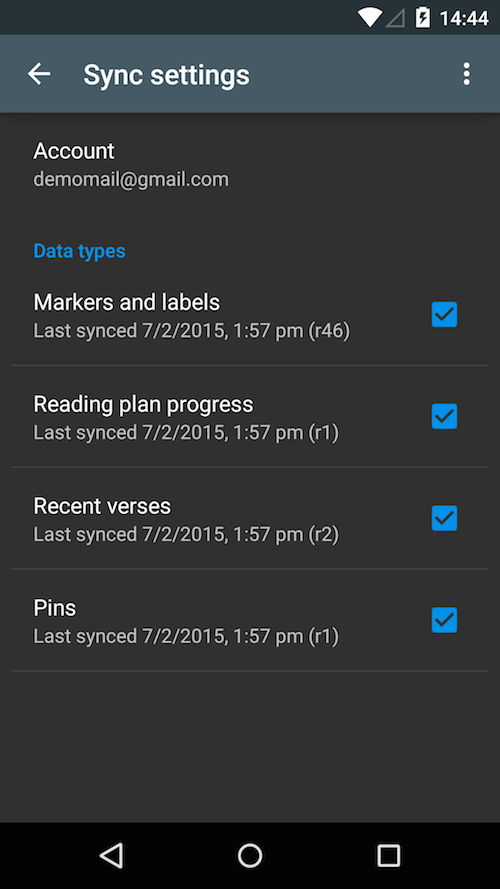 Dalam layar Pengaturan Sync, anda bisa melihat kapan terakhir kali sync berhasil dilakukan, dan nomor revisi. Misalnya (r380) berarti data anda berada dalam perubahan ke-380. Setiap kali data anda berubah, dan sync berhasil, maka nomor revisi itu akan bertambah, 1 atau lebih. In the sync page, you can see the last time you successfully synced your data and its revision number. For example, r380 means that your data is in its 380th revision. Every time your data is changed and synced, the revision number will increase.
Lupa password
Forgot password?
Jika sewaktu-waktu anda lupa password, kami sudah menyediakan instruksinya. Jika anda menekan pilihan Lupa?, kami akan mengirimkan detail prosedurnya melalui alamat email anda. In case you forget your password, tap on Forgot? and password reset instructions will be sent to your email address.

Tekan tombol titik tiga kemudian pilih "Ganti password" Tap the three-dot button and choose "Change password"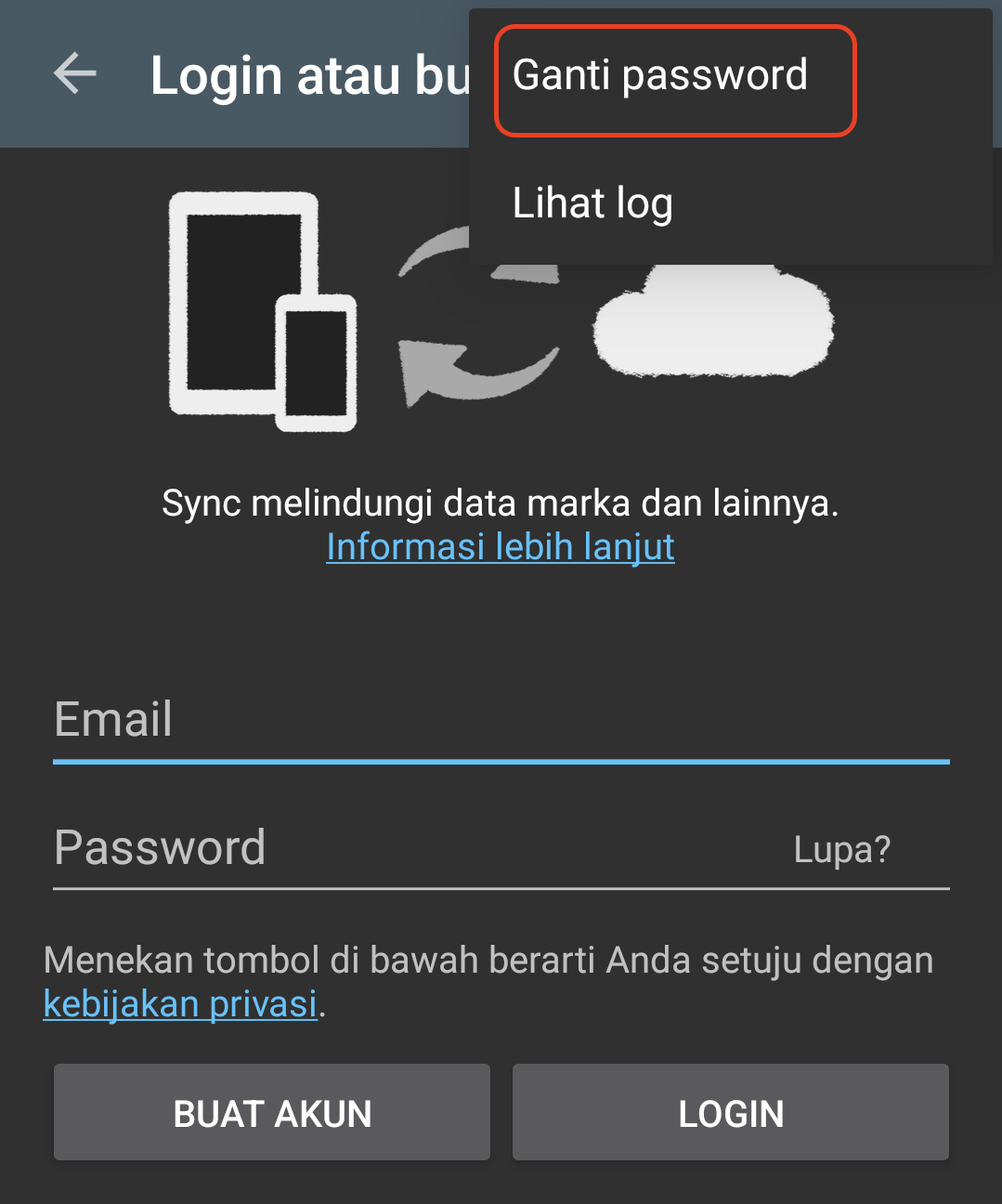 Isi alamat email anda, kode yang diberikan di email di isian "Password", dan password baru yang anda inginkan di isian "Password baru". Please provide your email address, enter the code provided in the email into the "Password" field, and enter your desired new password in the "New password" field.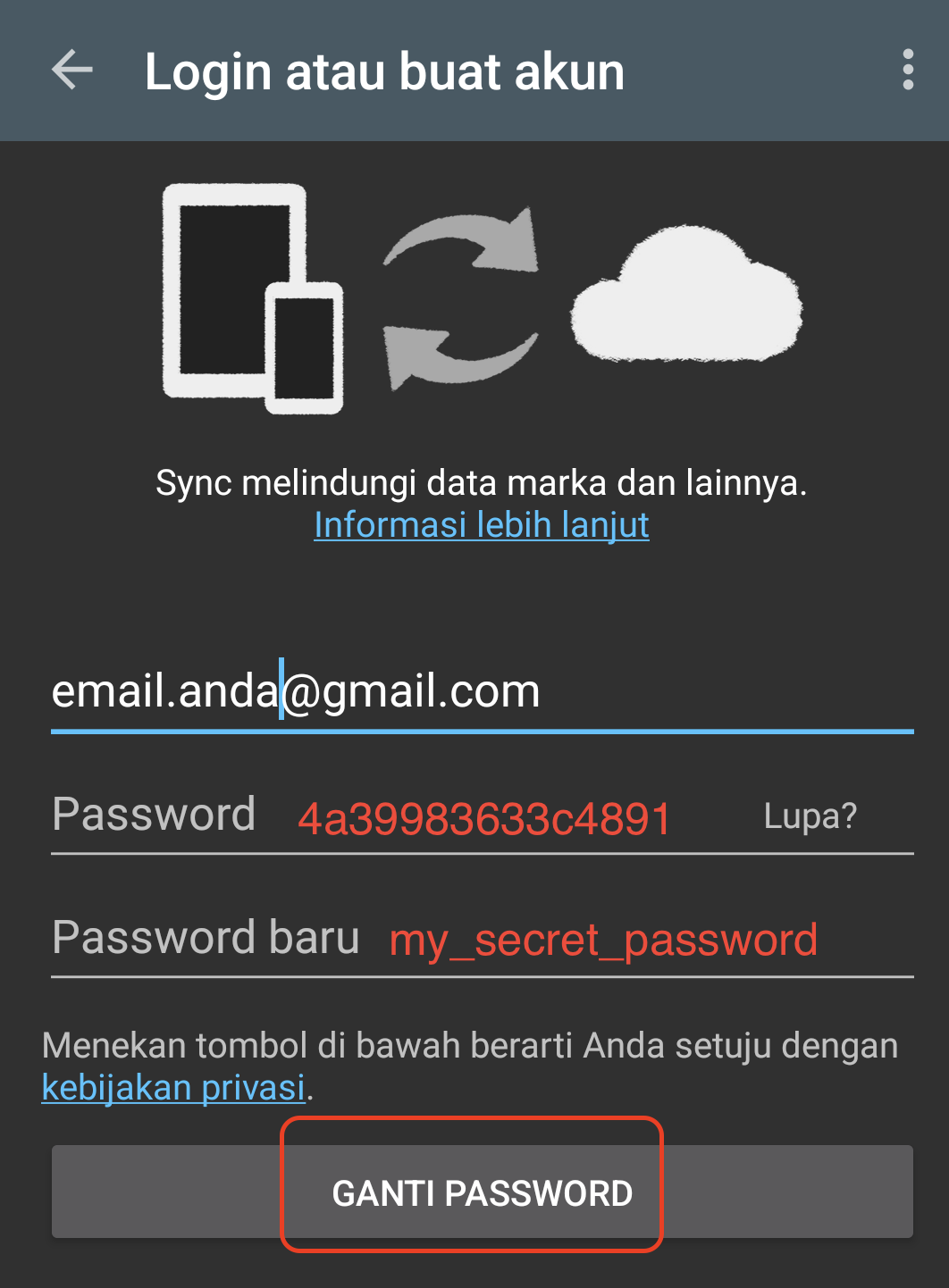 Tekan tombol "Ganti password" di bawah. Akan muncul suatu dialog yang perlu anda isi dengan password baru yang sama dengan yang diketikkan di isian "Password baru" tadi, lalu tekan OK. Press the "Change password" button below that. A dialog box will appear that you need to fill out with the same new password you entered in the "New password" field earlier, and tap OK.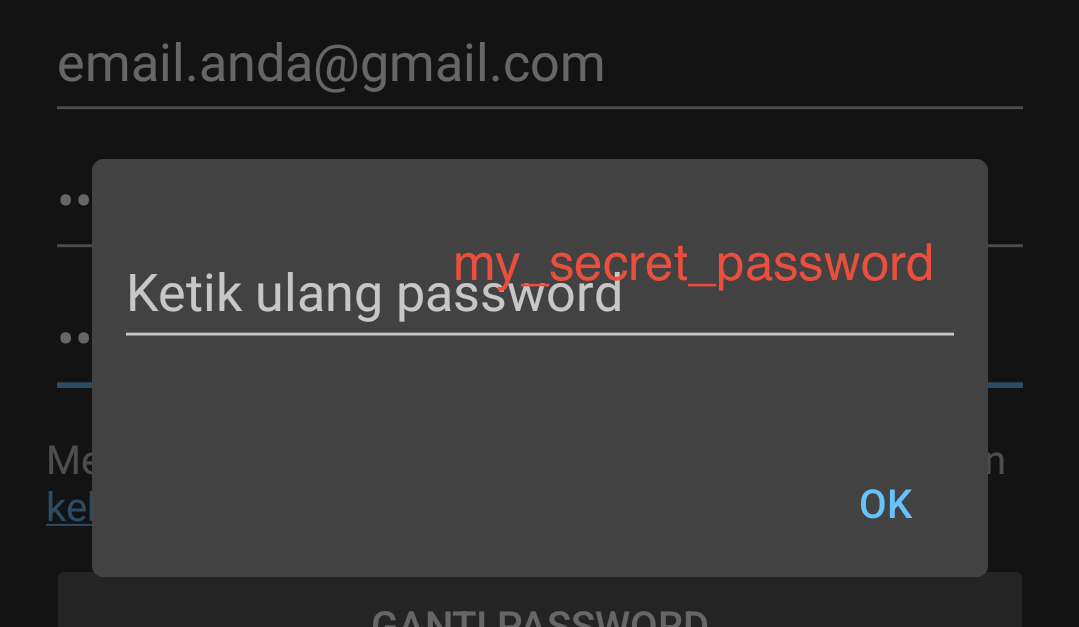 Konflik data
Data conflict
Dalam kasus tertentu, data yang disync dapat mengalami konflik. Contohnya, jika anda mempunyai suatu catatan yang sudah tersimpan dalam 2 perangkat, lalu ketika 2 perangkat itu belum terhubung internet, anda mengedit catatan itu di kedua perangkat secara berlainan, maka akan timbul konflik.

Seharusnya konflik tidak akan menghancurkan data. Kalau catatan aslinya adalah "tuan" dan pada perangkat pertama anda mengubahnya menjadi "tuan rumah", dan pada perangkat kedua anda mengubahnya menjadi "tuan tanah", maka ketika keduanya disync, catatan anda kira-kira akan menjadi "tuan >rumah<>tanah<". Sometimes, sync data conflicts, especially if multiple synced devices were modified before syncing the data again.

Instead of completely messing up the data, the differing data is combined. For example, if the original word was "God", and it is modified to become "Lord God" on one device and "Holy God" on the other, the synced data will be ">Lord<>Holy<God".
Seputar akun
About your account
Anda tidak dapat mengubah email anda setelah akun dibuat. Namun, anda bisa membuat akun baru dengan email yang baru. Jika anda membuat akun dengan email A kemudian anda mempunyai email B, cara untuk memindahkan data anda ke akun yang baru:

Pastikan anda selesai sync dengan akun dengan email A.
Ke menu Pengaturan > Sync, kemudian tekan "Akun" untuk keluar dari akun.
Buat akun baru dengan email B.
Tunggu hingga selesai sync dengan akun baru.
You cannot change your email after the account is created. However, you can create a new account with the new email. If you create an account with email A and then you have email B, here's how you can transfer your data to the new account:

Make sure you finish syncing with the account with email A.
Go to Settings > Sync, then press "Account" to log out of the account.
Create a new account with email B.
Wait until the syncing with the new account is completed.